Take a virtual tour of our campuses
Published on December 5, 2019
–
Updated on January 5, 2023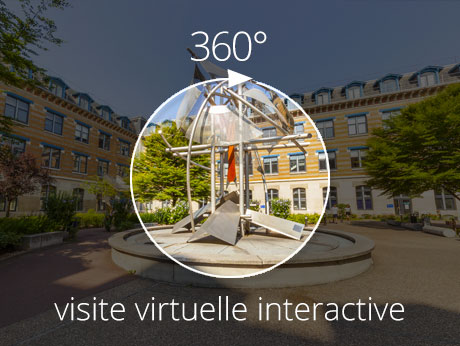 To promote its campus resources and to allow existing students, future students, visiting staff and partners to view its educational spaces (amphitheatre, classrooms, learning lab, co-working space, libraries, etc.), student spaces (Associations Workshop, Manufactory campus Incubator, sports halls, etc.), and service and reception areas remotely, Jean Moulin Lyon 3 University offers an immersive experience at the heart of its campuses via a virtual tour.
.This enhanced 360° tour provides three types of information: directions to help you find your way around the site; technical information on the provision or rental of prestigious meeting spaces and information on the campus buildings and infrastructure.
This tour can be accessed on tablets and mobile devices; however, for the best experience we recommend following the tour on a computer.
For an even more immersive experience, the tour is also available in a version adapted to virtual reality masks, proposed during the fairs and events organised by Jean Moulin University.
Last updated: January 5, 2023
In the same section
--> https://www.univ-lyon3.fr/take-a-virtual-tour-of-the-manufacture-des-tabacs-campus