Culture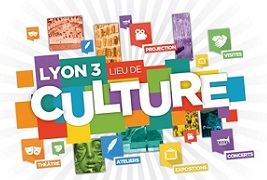 A place for transmitting and democratising the arts and knowledge, the University is also a place for creating, diffusing and taking part in artistic activities.
Open to the cultural life of the city, Jean Moulin Lyon 3 University offers concerts, exhibitions, film screenings and debates, conferences, artistic expression workshops, shows, heritage visits, guided tours, meetings with artists, and more – offering a rich and varied annual programme to all its students throughout the academic year. Every year, it welcomes artists in residence (music, sculpture, theatre, etc.) helping students to awaken their artistic sensitivities.
Programme
With theatre, dance, exhibitions, concerts and literary evenings, Jean Moulin Lyon 3 University offers a rich and varied programme, including more than 110 free shows per year.
>>> Take a look at the programme
(Link to additional content in French)
Artistic practice workshops
Jean Moulin Lyon 3 University offers a vibrant and creative cultural environment, where students can experience the creative process by participating in artistic expression workshops – music, theatre, visual arts, writing and film – free of charge and supervised by professionals.
>>> Find out more about the workshops
The Student Culture Pass
Reserved for students and available on presentation of your current-year student card (or university attendance certificate), the Culture Pass offers four tickets to performances over the full season in many of Greater Lyon's cultural venues for €18.
>>> For more information
Tip
If you play an instrument and have at least 5 years of practice, then join Lyon 3 Jazz Band!
Contact
Culture Office
Manufacture des Tabacs campus
pointculture@univ-lyon3.fr
+ 33 4 78 78 78 00
Opening hours
From Monday to Thursday: 9.30am-4.30pm
Friday: 9.30am-12.00pm
Download
► Cultural programme
(Link to additional content in French)
Last updated: October 14, 2019
In the same section
--> https://www.univ-lyon3.fr/culture