Associations

,

Culture

,

Libraries

,

Students

,

Pedagogy

,

Partnerships

,

Research

,

Student life

,
Student Festival | L'Art au Moulin 2023
Published on April 19, 2023
–
Updated on April 19, 2023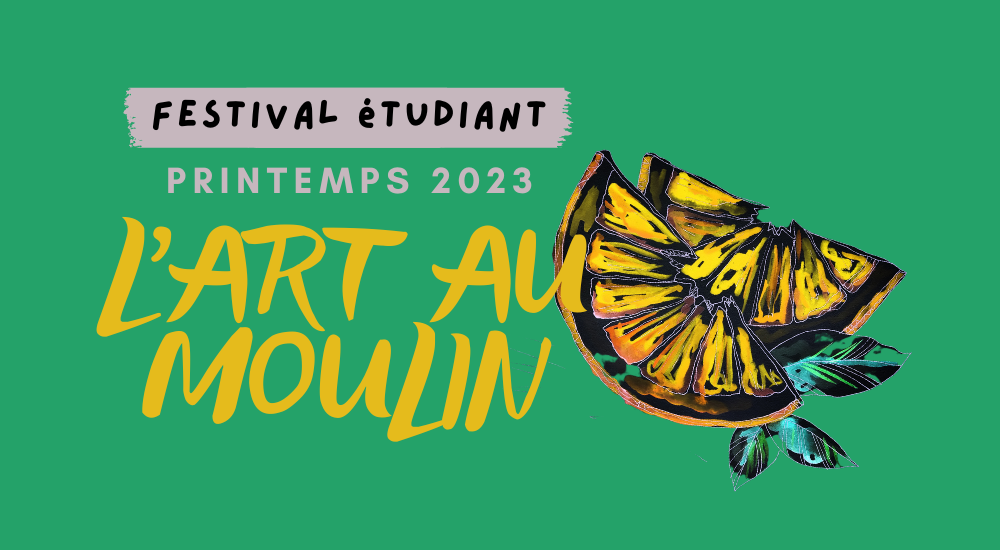 The art workshop students perform in a colourful festival every year! The 2023 edition of the Art au Moulin festival invites you on its travels from 27 March to 1 June.
Photo credit : Alex Delecaut, David Venier
This multidisciplinary festival reveals students' talents, moving to the rhythm of their gestures and words. The festival's original performances showcase the creative work produced throughout the year in the
art workshops
: visual arts, singing, cinema, writing, music, photography & theatre.
THEATRE

READING ALOUD
Directed by Frédérique Bruyas from the Compagnie Escargot Ma Non Troppo


THE CONFERENCE OF THE BIRDS

de Farîd od-dîn 'Attâr (1190)

Wednesday, 29 March | 6 pm
Maison des étudiants | 90 rue de Marseille, Lyon 7


In 2014, Leili Anvar published a French verse translation of the long and arduous journey of the thousands of birds who set off in search of Sîmorgh, invisible to the eyes, indescribable in words. With The Conference of the Birds, 'Attar left 4,725 couplets for a path of discovery that ultimately leads us back to ourselves.

Readers
Rena Ayatollahi, Agathe Lambert, Albert Roumy, Eddya Andriamparany, Salomé Maquet, Fabrice Marozeau, Vinciane Kouassi, Youssera Michel, Ines Ammiar, Victoria Nguyen


***

IMPROVISATIONAL THEATRE
Directed by Claudine Olivier

VOICE AND BODY IMPROVISATIONS
followed by A BOUQUET OF SONGS FROM AROUND THE WORLD

Saturday, 1 March | 10 am
Auditorium Malraux | 16 rue Rollet, Lyon 8

Metamorphosis loud and clear, with or without words...
And when it speaks what does it say? Knock, knock, knock... Open the door
It's the song of the world...




With Fabien Badel, Hugo Denis - Mayis Grigoryan, Sofia Katsiouri, Gabrielle Sienko, Arianna Sordello, Zuzanna Stepinska, Kinga Szary, Matthias Tang


***

FORUM THEATRE
Directed by Séverine Puel from the Cie Les Transformateurs



IT'S NOT (JUST) A GAME

Thursday, 4 April | 6.30 pm
Maison des étudiants | 90 rue de Marseille, Lyon 7


How to react in situations of conflict or injustice?
Theatre for debating and reflecting together.
The Lyon 3 Forum theatre group is offering a participative theatre experience. Come and reflect with us, and why not get up on stage?


***


THEATRE IN FRENCH
Directed by Anne-Laure Pommier from the Cie Drôle de Trame

COURAGE !

Wednesday, 5 April | 8.30 pm
Le Karbone MJC Monplaisir | 25 avenue des Frères Lumière, Lyon 8


TAKE HEART!
Good evening citizens of Lyon! Welcome!
Tonight is the big night, tonight is special, tonight is theatre…
Tonight we will tell you some incredible and true stories of courage and cowardice.


***


[Canceled] THEATRE IN SPANISH
Directed by Francisco VILLANUEVA MACIAS



Al ROJO

Thursday, 6 April | 6.30 pm
Le Karbone MJC Monplaisir | 25 avenue des Frères Lumière, Lyon 8


A gloomy room. An airless space. A weft of dissidence is woven, oscillating between the intense coughing, the muffled cry and the silence of a bourgeoisie trying to hide its miseries. A time of stitching that is entangled in prison torture. Corpses of mute models, prostitutes, misery, mirrors, masks, asphyxiation... Al rojo...

Habitación lúgubre. Espacio sin aire. Se teje una trama de disidencia que oscila entre la tos intensa, el grito sordo y el silencio de una burguesía que trata de esconder sus miserias. Tiempo de costuras que se enreda en torturas carcelarias. Cadáveres de maniquíes mudos, prostitutas, miseria, espejos, máscaras, asfixia… Al rojo…


***


THEATRE IN ENGLISH

Directed by Oliver Firth, Clara Griffiths and Rebecca Mumby


CRAZY IN LOVE

Thursday, 6 April | 8 pm
Le Karbone MJC Monplaisir | 25 avenue des Frères Lumière, Lyon 8


The play addresses mental health empowerment, with specific focus on the acceptance and normalisation of a range of disorders from anxiety to ocd, and adhd. There is an emphasis on displaying mental health struggles in a more light-hearted, humorous and relatable way.

VISUAL ARTS

CINÉSMART SCREENING

Directed by Lionel Lacour


SHORT FILMS

Monday, 27 March | 8 pm
Bar l'Upper Side | 2 rue Professeur Rollet, Lyon 8


Come and watch a screening of short films made by our film students!


The artistic team
Florentin AIMAR, Rokhaya BA, Célia BARRELLON, Ghadir FAHD, Marina FERREIRA PADIAL, Sofia KATSIOURI, Alyssia LEGRAS, Baptiste LOPES, Iwan MICHEL, Mattéo REUS, Louane ROBERT, Margot TABACCO, Jeanne TANGUY, Marsile TOURON, Mattéo TREVISAN



***

ART EXHIBITION

Directed by Marie PERRIAULT

LIVING AND BRINGING THE PLACE TO LIFE

From 29 March to 3 May
Salle d'exposition bibliothèque | 6 rue Rollet, Lyon 8


The artists
Enola ACCARION, Dina AHMADZAI, Samuel ALEXY, Leslie BEDARD, Alexandre BLONDELLE, Elodie BOUVIER-LAMALLE, Elodie CABOSTE, Cléo CHANCRE, Sanaé CLAUDIN, Nina COUSEW, Wangyang DUAN, Karolina DUBERT, Nefise DURANSOY, Manar EDDABDOUBI, Felicia GERVASONI, Ardel GRASSET, Eléa GROUSSAUD, Rabah HARIR, Mariam HENEIN, Ana JIMENEZ SOTO, Alizé LEMAITRE, Alexandra MAHAVANDE, Lizzie MARTIN, Élise MAUFFREY-DO NASCIMENTO, Yousera MICHEL, Emmanuelle MONGUILLET, Alia MORO, Emma MUFFAT, Solene NABETH, Ebru OZBEK, Batoul SABSOOB, Océane TAISNE, Matthias TANG, Yueqi TAO, Sonia TEPORDEI, Mattéo TREVISAN



***

PHOTOGRAPHY EXHIBITION
Directed by Vincent Noclin

MANUFACTURERS

From 3 to 10 April
Bar l'Upper Side | 2 rue Professeur Rollet, Lyon 8


This semester, students take an original view of the Manufacture des Tabacs campus, questioning the location in photographic images.


The photographers
Marylou ANTONIOL, Sarah BENDIFALLAH, Elodie CABOSTE-SARTIN, Laurie CACCIATORE, Anastasiia CHUMACHENKO, Lila CLAUDEL, Douglas DE QUADROS ROCHA, Mathilde DUHAMEL, Sibila FURTADO DIAS DO SACRAMENTO, Aviva FUTORNICK, Clémence GODIN, Anthony GRAND, Lydia HADJI, Salomé JACQUET, Jimenez ANA CECILIA, Amel KEHEL, Alizé LEMAITRE, Insaf MECHRAOUI, Farah OUTSSAKKI, Ines PERONNARD, Maria QUIÑONEZ MONTENEGRO, Louane ROBERT, Oscar ROUSSEL, Batoul SABSOOB, Anne-Lou SALOMONOVITCH, Naomi SANTORO, Justine SCHLAPPI
Francesca SCHLAPPI, Marina VACHOT, Charlotte VANACORE



***


DOCUMENTARY SCREENING

Directed by Vincent Noclin

SEARCHING

Monday, 3 April | 7 pm
Bar l'Upper Side | 2 rue Professeur Rollet, Lyon 8


The students of the documentary workshop examined the daily life of a celebrity, but after several twists and turns, they had to reinvent their documentary.


The artistic team
Mariam BAALI, Célia BARRELLON, Sakina BELALA, Anis BETTEBGHOR, Tobias CHARRIER, Tiphaine CHASSAIGNE, Rayan CHERMAT, Esther COUDREAU, Emmanuel DA SILVA, Aksel DESBOIS, Sarah ELOMARI, Hugo GENEVE, Mathilde KURTH, Quentin MALLET, Nora MOUBARAK, Milan MUR, Solene NABETH, Sabrina OMOURI, Sabina RAHOU, Isabel REINKEMEIER, Charlotte VANACORE

MUSIC

ORCHESTRAL CONCERTS

Directed by Thierry Vaysse


Wednesday, 26 April | 7 pm
Le Karbone MJC Monplaisir | | 25 avenue des Frères Lumière, Lyon 8




The pianists Claire Paquier, Ghia Honein and Hugo Exposito will be joined by the orchestra's string and wind soloists in the chamber music section.
Ariane Moulin and Rémi Atasay, guest pianists, will be the soloists in two concertos accompanied by the orchestra.


Thursday, 1 June | 6.30 pm
Auditorium Malraux | 16 rue Rollet, lyon 8

WRITING

READING FICTION WRITING

Directed by Elise Bonnard



A THOUSAND AND ONE DREAMS

Wednesday, 5 April | 6.15 pm
Salle d'exposition au sous-sol de la bibliothèque | 6 rue Rollet, Lyon 8


The FICTIONS workshop presents A Thousand and one Dreams, the magazine that deciphers your nights.

Is it a good sign to dream about the Snow Queen? Should you keep your cuddly toy after the age of 18? How can you sleep like a baby? Our most renowned specialists will meet to present the results of their research and answer all your questions. Dreamers of all levels accepted!


The authors
Aksel DESBOIS, Nefise DURANSOY, Nour-El-Houda HASSANI, Ben HIMIDI, Noémie LEUBA, Bérénice MARTIN, Clara PICHON, Dylan PROVOST
Last updated: April 19, 2023
In the same section
--> https://www.univ-lyon3.fr/student-festival-lart-au-moulin-2023