Entrepreneurship

,

Students

,

University life

,

Institutional life

,
Lyve Festival: the University hosts the pop-up store for entrepreneurs
Published on April 22, 2022
–
Updated on April 22, 2022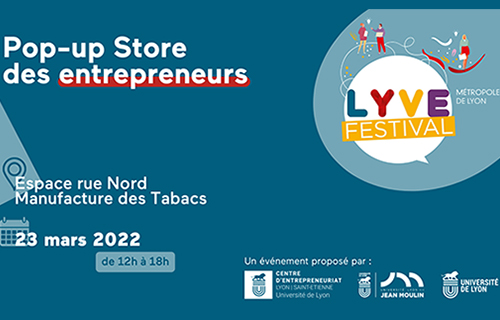 As part of the Lyve Festival, organised by the Metropole of Lyon, Jean Moulin Lyon 3 University will be hosting the pop-up store for entrepreneurs on Wednesday 23 March. This event is organised in partnership with the Entrepreneurship Centre and the University of Lyon.
Student entrepreneurs will be able to present their products or service offerings at the event. Some will also have their prototypes and mobile applications tested. It's a great opportunity to meet and exchange with them!

The entrepreneurs attending
The pop-up store will bring together entrepreneurs from the Manufactory Sans Souci incubator run by Jean Moulin Lyon 3 University, as well as from the La Doua incubator (Claude Bernard Lyon 1 University), the D2E student-entrepreneur diploma and the Diversitech programme.
Manufactory Sans Souci Incubator (Jean Moulin Lyon 3 University)
Oorion: mobile application for the visually impaired, aimed at helping people search for and identify objects in their environment in an instant, using only the camera on their smartphone.
Chou au carré: scrunchies made in France, upcycled from haute-couture fabric scraps.
Limitless: support for integrating into the social and environmental impact sector, through a programme of co-development and information workshops, networking events, and access to resources and an online exchange platform.
REF BIKE: design, manufacture and marketing of sustainable and infinitely adaptable urban bikes. An opportunity to discover the prototype of their bicycle frame!
Osez nu: application and map designed to promote eco-friendly shops in Lyon.
Newnote: the first self-service piano room.
Daymode: mobile application for managing your wardrobe to help you diversify your daily outfits.
Estampille: a brand of upcycled cosmetics made from the by-products of reputable local businesses.

La Doua Incubator (Lyon 1 University)
Hopi : box for new and future mothers.
Nutli : spread.
D2E student-entrepreneur diploma
Les empotés : design of custom-made planters.
Smart bags DOTSE : connected banana bag.
Diversitech Programme
Evolutiel : a service based on the development of skills through play.

The Lyve Festival in a nutshell
The Lyve festival, organised by the Metropole of Lyon, is an event designed to raise awareness of entrepreneurship. For two days, around 40 activities (escape game, bus tour, meetings, workshops, challenges, etc.) are offered to help as many people as possible discover entrepreneurship.

About entrepreneurship at Jean Moulin Lyon 3 University
Jean Moulin Lyon 3 University, a major player in student entrepreneurship, has implemented schemes, training courses and workshops to facilitate student access to business creation. It also welcomes students and entrepreneurs at its Manufactory Sans Souci Incubator, and supports projects according to their level of maturity.
The Lyon Saint-Etienne Entrepreneurship Centre was created in 2020, following a merger between Manufactory, Beelys and Lyon Start Up.

Informations
­23 March 2022
From 12:00 to 18:00
Manufacture des Tabacs campus
Espace Nord
Last updated: April 22, 2022
In the same section
--> https://www.univ-lyon3.fr/lyve-festival-the-university-hosts-the-pop-up-store-for-entrepreneurs