Jean Moulin Lyon 3 University a partner in the INCLUDE project on the inclusion of learners in higher education
Published on November 12, 2021
–
Updated on January 13, 2022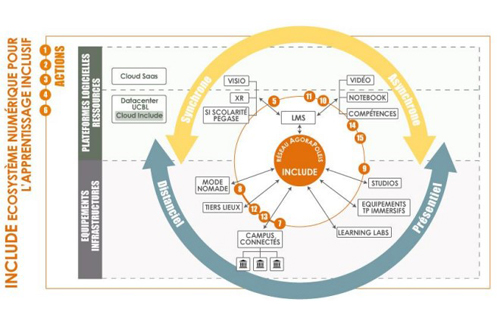 Jean Moulin Lyon 3 University is proud to participate in the
INCLUDE project: "The inclusion of learners in higher education: using digital transformation to cultivate diversity by transcending spatial, temporal and cognitive barriers"
, which has just been awarded a budget of 7 million euros over three years as part of the ANR's "DemoEs" call for expressions of interest.
Coordinated by Claude Bernard Lyon 1 University – in partnership with six other institutions on the Lyon Saint-Etienne site (Lyon 3, Lyon 2, Saint-Etienne, ENS, INSA, Centrale), partners from the socio-economic ecosystem and local authorities – the aim of this project is to
support inclusive digital technology that ensures the accessibility of training courses for the benefit of people who have difficulty attending courses, including students who are exempt from attendance or who have a disability.
This objective is in line with the policy implemented at Lyon 3, and in particular with the 2021-26 institutional project.
About the project
By drawing on digital techno-pedagogies and the massive training-for-trainers plan, the INCLUDE project aims to
create a more accessible learning environment and to enrich the repertoire of pedagogical and teaching practices
, both synchronous and asynchronous, in order to offer learners personalised curricula, adapted to their specific needs, enabling them to acquire knowledge and skills and to express their abilities.
The challenge is also to be able to
establish a relationship between the assessment of learning in all its forms and a level of competence
, within the framework of an educational continuum from university entrance, to graduation and beyond.
Strategic themes
On an operational level, the four strategic themes of the INCLUDE demonstrator are broken down into 15 actions contributing to the creation of a digital ecosystem for inclusive learning.
Theme 1: Structuring the INCLUDE network
Structure and disseminate a change management strategy
Establish the INCLUDE Lab for innovations in inclusive pedagogies
Create a steering group with the educational and digital ecosystem
Massify awareness and training in inclusive education
Bring together, share and disseminate large-scale immersive educational experiences
Theme 2: Deploying the AgoraPoleis network
Formalise and implement the AgoraConnect tool
Design and implement the AgoraPoleis network's delocalised campuses
Implement the BYOD approach using the AgoraPoleis network's data-driven management
Theme 3: Personalising learning and analysing learning experiences
Provide immersive courses for acquiring practical skills
Implement a unique video platform promoting inclusion
Develop an interactive and open-source scientific space
Include learners with attendance exemptions
Create a more accessible learning environment
Theme 4: Creating a skills continuum
Employ a tool for monitoring learners' skills
Set up a continuing skills certification system
Last updated: January 13, 2022
In the same section
--> https://www.univ-lyon3.fr/jean-moulin-lyon-3-university-a-partner-in-the-include-project-on-the-inclusion-of-learners-in-higher-education