University life

,

Student life

,
2021 Student Welcome Day: a picture report
Published on October 20, 2021
–
Updated on October 20, 2021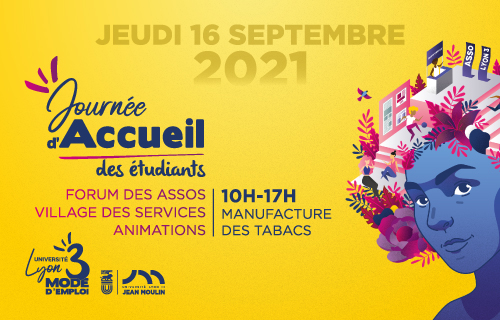 The Student Welcome Day was held at the Manufacture des Tabacs campus on Thursday 16 September. It was an opportunity for Jean Moulin University to welcome you and to provide you with all the information you need to get started. Let's take a look at the highlights of "Lyon 3, mode d'emploi", the programme for the new academic year!
The weather could have been better… But the day went ahead in good spirits! The services village, associations fair, campus visits, student concerts and a partner area... The day was full of proposals and emotions!
The associations fair
Many of you came to the Salon des Symboles Nord to meet the University's student associations... It was even difficult to shut down the fair at the end of the day! If your thirst for associations isn't quenched, here are two useful resources:
►
The full list of associations
(in french)
►
All the steps
: to create an association, finance a project, organise an event, etc. (in french)
Have a great year with your associations!
Student concerts and the arts
The associations Swingin'Lyon, the Agora choir of ESL Musique, and Lézart GACO proposed a musical lunch break in the Malraux Auditorium... The atmosphere was intimate but cool!
The services village and the partner area
Wheelchair and blind tours, discovering Braille, CV bar, guess my job, self-service piano, healthy and tasty recipes, quizzes of all kinds... The University's departments have pulled out all the stops to provide you with useful information for the start of term.
You want to know more about orientation, the ULs, digital tools, sports, preventive medicine, or any other question about student life?

► Check out the Carnet de Route, the student guide!
Thank you all for attending and participating in the 2021 Welcome Day!
(Re)experience the highlights of the day in pictures.
© David VENIER, Université Jean Moulin Lyon 3
WE WISH YOU ALL A GREAT START OF TERM!
Contact :
Thématiques :
University life; Student life
Last updated: October 20, 2021
In the same section
--> https://www.univ-lyon3.fr/2021-student-welcome-day-a-picture-report