Institutional life

,

Health

,

Students

,

University life

,
Covid-19 | Organisation of the university and health measures
Published on November 17, 2021
–
Updated on April 22, 2022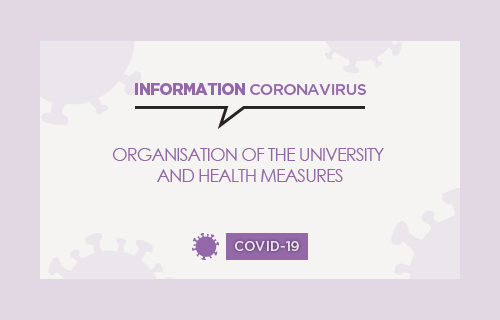 This information space is devoted to general questions about the organisation of the institution during the Covid-19 health crisis.
It is updated regularly as the situation evolves.
Are you a student or staff member? Find the information specific to your profile directly in the frequently asked questions on the intranet.

Lifting of restrictions
From 14 March 2022
, the University's sites are accessible
without a vaccine pass,
including at events and functions, and
masks are no longer mandatory
(including indoor and outdoor areas).
Hygiene measures
Although social distancing rules are no longer mandatory,
certain hygiene measures
should continue to be applied, such as:
Hand washing: wall-mounted hand sanitiser dispensers and more than 150 non-contact hand sanitiser dispensing stations are available across the institution's various sites.
Cleaning of surfaces: disinfectant spray and single-use paper towels are available in all shared spaces to enable users to clean the most frequently touched surfaces and shared equipment.
Ventilation of premises: it is advisable to air the premises regularly by opening doors and windows whenever possible
Informations
­28 October 2021
From 10:00 to 15:00
Last updated: April 22, 2022
In the same section
--> https://www.univ-lyon3.fr/covid-19-organisation-of-the-university-and-health-measures