Tribute to Ellis Marsalis, jazzman and educator
Published on April 15, 2020
–
Updated on May 7, 2020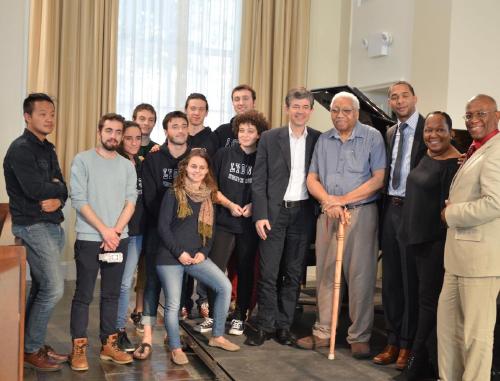 The musician passed away on 1 April in New Orleans. He leaves behind him an immense career dedicated to jazz and to teaching, and musical sons who all inherited his genius. They include Wynton, virtuoso trumpet player, honorary doctor of Jean Moulin University and artistic adviser to the Lyon Chamber Orchestra.
Internationally renowned musician and outstanding teacher Ellis Marsalis died on Wednesday 1 April in New Orleans, Louisiana, where he was born on 14 November 1934.

As a pianist, Ellis Marsalis, who is said to have "interpreted the classics to perfection", spent his life pursuing an avant-garde musical style and showcasing African-American harmonies.

In fact, it was for playing jazz with violinist Edward Frank that he was "kicked out" of Xavier Junior School of Music, a highly regarded Catholic school, where he had begun clarinet studies. After "discovering Louis Armstrong at the age of 19", he went on to study the saxophone and piano. Admitted to the prestigious Dillard University, he obtained a Bachelor's degree in Music Education.

Ellis Marsalis' career as a pianist began in New Orleans. He was involved in all kinds of musical experimentation and accompanied soloists passing through the city, including Ed Blackwell or Harold Battiste.

In 1956, he crossed the United States to California at the invitation of Ornette Coleman. This marked the beginning of his successful concert career where he stepped out of the shadows to take centre stage. In 1959, back in his hometown, he worked at the Playboy Club, before being hired by trumpet player Al Hirt, who invited him to perform on top-rated television shows.
A great teacher
In 1986, Ellis Marsalis joined the Virginia Commonwealth University in Richmond as coordinator of jazz studies, a position he held until 1989 before the University of New Orleans (UNO) recruited him to set up a jazz studies department. His commitment to the creation of this programme and his unwavering connection with Dillard University bear witness to his taste for transmission and his vocation for imparting his knowledge to others.

In fact, it was at Dillard University that the young musicians of Trublyon, the Lyon 3 University Jazz Orchestra, met him, along with Bridget Bazile, the great voice of Gospel music, when the orchestra was in New Orleans to take part in the famous Mardi Gras parade.

When he heard about their visit, Ellis Marsalis came to join the university group welcoming the French delegation, with music absolutely on the cards (see photo).
"His humility in coming to share this moment and the time he devoted to these young people says a lot about Ellis' generosity. A moment of exceptional quality, which continued in music, at the piano in a duo with Vincent Balse, musical director of the Lyon Chamber Orchestra" recalls Alain Asquin, then Vice-President of Jean Moulin University, who was at this musical meeting.

Ellis Marsalis retired from the UNO in 2001, but he continued to share his music with younger generations, especially at Snug Harbor, a small jazz club in New Orleans that supports promising young musicians.

Caption : Ellis Marsalis at the Dillard University, with at his left Vincent Balse, musical director of the Lyon Chamber Orchestra, Bridget Bazile, Gospel singer, and his son, Wynton Marsalis ; and at his right Alain Asquin, Vice-president of Jean Moulin University and the students of the Trublyon association.
Last updated: May 7, 2020
In the same section
--> https://www.univ-lyon3.fr/tribute-to-ellis-marsalis-jazzman-and-educator-1