Start of term 2020: health measures to be followed
Published on September 3, 2020
–
Updated on September 3, 2020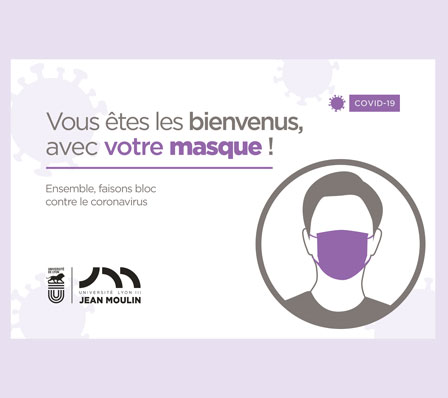 The Covid-19 health crisis has affected our daily lives since March, requiring us to change our habits. The current context will also change life at Jean Moulin University and the start of the 2020-21 academic year.
Despite this specific context, our priority remains unchanged:
to welcome you and to help you succeed, while respecting the health and safety rules required to protect every person.
To do this, while we also have an alternative scenario based on distance learning, the University has chosen to
prioritise a largely face-to-face start to the academic year
, putting in place all measures necessary to avoid the spread of the pandemic.
Measures to be followed
►
Wearing a mask is mandatory within the University, including in all enclosed spaces
(lecture halls, classrooms, corridors, etc.)
and open spaces. The mask must cover your nose and mouth.
IMPORTANT:
If you fail to comply with this obligation, a member of the institution's personnel may ask you to put on a mask or to leave the premises. If you refuse, the area concerned may be evacuated and you will be subject to disciplinary action.
►
Each student must have his or her own mask to access the University and work there
(attending classes, accessing university libraries, catering, educational access, etc.).
Are you experiencing financial difficulties?
Social service workers can help you.
Contact them
.
►
Each person is responsible for following the protective measures in order to protect themselves and others:
wearing masks, frequent hand washing (soap and hand sanitiser dispensers are available in different locations around the campus) and physical distancing.
These rules may be amended in function of the pandemic situation and guidance from the Ministry of Higher Education, Research and Innovation.
►
Check your institutional messaging system on a regular basis.
Need more information?
The University's website and the student intranet are updated on an ongoing basis as the situation evolves.
A
Frequently Asked Questions
(FAQ) section dedicated to the general organisation of the start of term and the health measures in place is also available online.
Rest assured that all of the institution's staff members are mobilised to organise the coming academic year in the best possible conditions.
We wish you an excellent start to the 2020-21 academic year.
The President's Office, University Jean Moulin
Start of term 2020
Frequently Asked Questions
►
Consult the FAQ for students
, dedicated to the general organisation of the new academic year, accessible services, health measures, etc. (
english version will be soon available
)
Last updated: September 3, 2020
In the same section
--> https://www.univ-lyon3.fr/start-of-term-2020-health-measures-to-be-followed