Student life

,

Institutional life

,
A look back at a springtime cycling event: Le Printemps du vélo #1
Published on April 22, 2022
–
Updated on April 22, 2022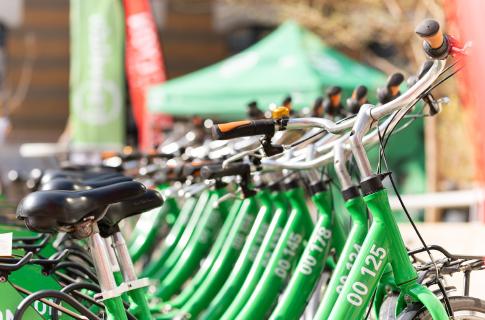 On 21 March, Jean Moulin Lyon 3 University launched the first edition of the Printemps du vélo, a cycling initiative open to all on the theme of sustainable mobility.
The event saw the
distribution of Free Vélo'v bikes
, the green recycled bicycles made available free of charge by the Metropole of Lyon to scholarship students, for a period of between 3 and 24 months. The scheme is part of the
fight against student poverty
led by Jean Moulin Lyon 3 University, in line with the support provided for the opening of Episcia, the social and solidarity grocery shop run by the L3DD association, or the installation of free sanitary protection dispensers on campus.
Bruno Bernard, President of the Metropole of Lyon, accompanied by the elected representatives of the Metropole and the City of Lyon in charge of roads, active mobility and urban logistics, were present to inaugurate this first edition.
The initiative also provided students and staff with the opportunity to participate in a
mechanical diagnosis of their bike
, accompanied by technicians from the Cyclub self-repair workshop; to r
eview a "handlebar-based" version of the Highway Code
thanks to the Covelo programme supported by the Maison du Vélo; and to
taste the 100% plant-based pastries
of Vic, the chef and founder of Oupsi, whose three-wheel cargo bike weaves its way around Lyon's various markets and events!
Photo highlights
Other cycling initiatives in the area include:
Last updated: April 22, 2022
In the same section
--> https://www.univ-lyon3.fr/a-look-back-at-a-springtime-cycling-event-le-printemps-du-velo-1